I've been perusing Pinterest for nursery inspiration pictures, none of which are actually of nurseries.
It's strange. I would tell anyone else to go with their gut, buy what they love, and make things a little quirky – but I second and third guess myself on EVERYTHING. I keep going back to look at all my saved inspiration to "test" if something fits my vibe. For instance, I was having a ridiculously hard time pulling the trigger on this vintage rug that I planned to layer over jute in Lenore's room: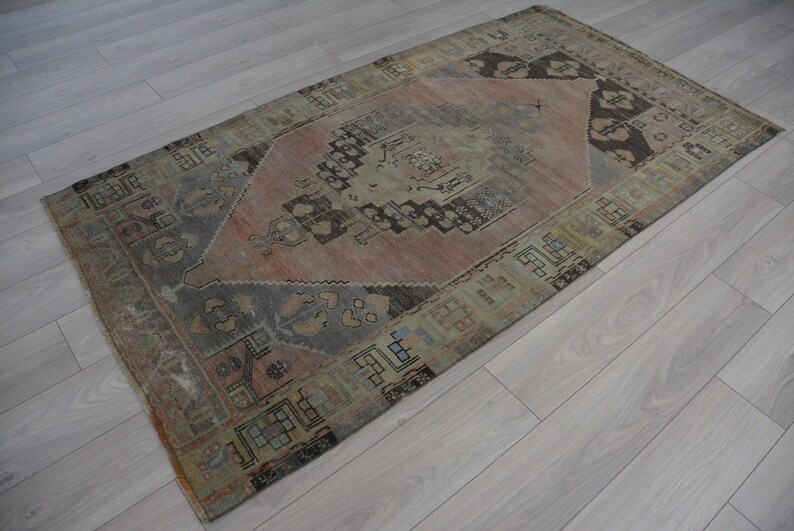 Seriously, I visited the rug online every day for a week until I bought it. (I am so excited to get it!! It's the first big thing I've gotten for her room.) But more than just the act of buying one rug, I think my style is evolving a bit – or at least I'm becoming braver in my own home.
It's no secret I love nature and old stuff. Ever since I was a kid I loved photos that embodied how that felt. But the first design book I was ever given was Remodelista – which is amazing – but I was convinced I love minimalism after reading it. LOL. I do not.
If I could impress one thing upon you today, it is that you can never model your own home 100% off of a photograph. If I went with the look above in my own house, it would look like a junk shed. I don't have tall ceilings or herringbone floors. I don't have thick delicious baseboards, and all of those architectural details add up to provide an artsy backdrop for minimal furnishings.
Early on, I mistakenly thought a picture I liked could provide a formula of sorts for my own home. But the truth is each of us has to take into account our own lifestyle (I would detest bare wood floors), the style of our home (mine is traditional with not much architectural flair), and how things feel in the space. Where does the light come from? What views do you want to draw attention to? What makes you feel both cozy in the evening and happy during the day?
It's so much more than just picking a "style" and running with it. At least – it is if you don't want your home to look like a designer decorated your house without knowing you at all.
As the years have gone by and I've played with every room in our house, I realized I don't like it to look "designed". I like layers, personality, and soul. Nobody would walk in and peg it with a particular style, because there isn't one.
Though, I can't lie, because I'm on the internet I do feel a pressure to have a design that is "understood" by you guys. Which is stupid. YOU are human and unique and are drawn to the same stuff I am – design rules foregone and everything.
I'm trying to give myself more permission to experiment like I would in a client's home. The feel of my home is the most important thing to me. I am the tone-setter for our house whether it be the music, food, decor, whatever.
Lenny's nursery is going to be different and I'm excited. It's a large, weirdly laid out room, and I'm just going to do what feels right in there. I know the rules of design, and that's what gives me permission to break them.